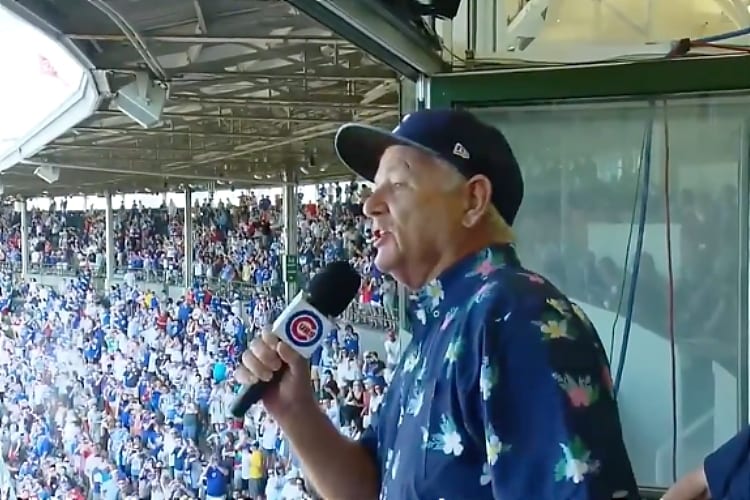 With the United States returning to normal after the pandemic, many baseball stadiums are returning to 100% capacity. To mark the first full attendance game at The Cubs' Wrigley Field, the one and only Bill Murray sang "Take Me Out to the Ball Game," proving he'll remain a diehard fan forever!
Bill Murray At Wrigley Field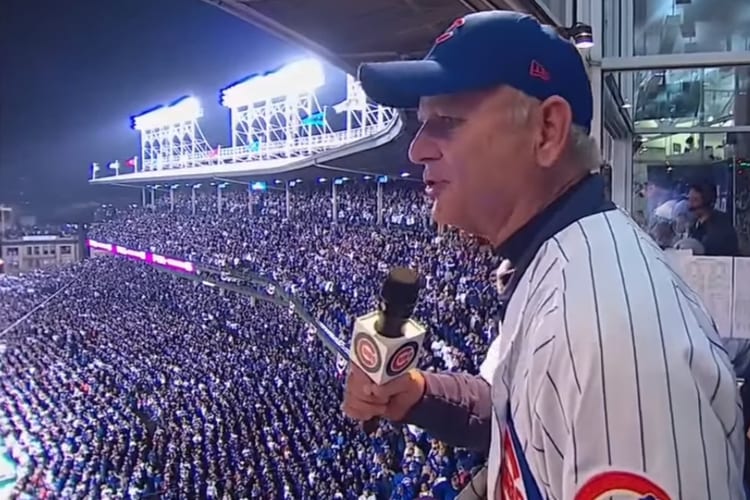 Iconic comedian and actor Bill Murray, 70, has never forgotten his roots and his hometown baseball team – the Chicago Cubs! To celebrate the first full capacity game at Wrigley Field in over a year, he popped into the announcer booth to sing "Take Me Out to the Ball Game" at the seventh-inning stretch, as is tradition.
"This is what it feels like to be 100 percent! We're gonna be louder from right now until the last out in the top of the ninth inning. Understood?" he screamed on top of his lungs before the game against the Cardinals continued. "Let's scare the hell out of these Cardinals!"
Fortunately for Chicago fans, it seems Murray's word worked – the Cubs won the game! After the song and words of wisdom, the team scored three runs and ended the play with an 8-5 victory, despite being down 5-1 at the top of the fifth. As any sports fan can tell you, that's the power of a true fan. They can turn around not only the audience, but also the team itself!
This is far from the first time Murray has helped out the Cubs, however…
"Take Me Out to the Ball Game" Once More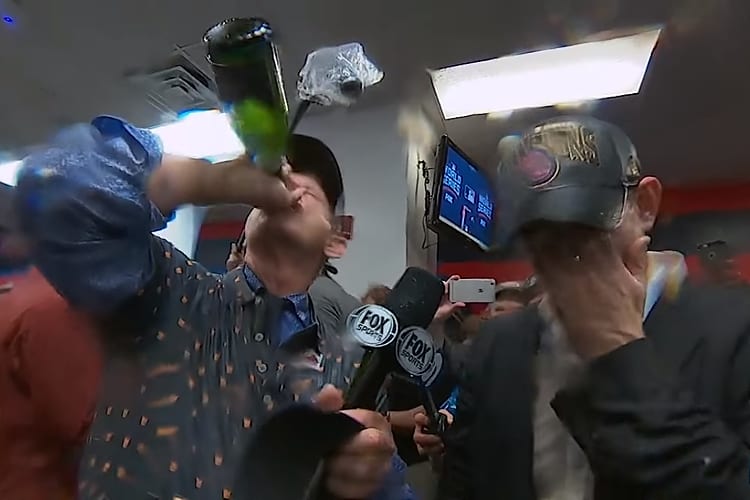 Believe it or not, this is not the first time Murray has sung "Take Me Out To The Ball Game" for the Cubs. In 2016, the comedian performed the song for the first time. However, he did so in a rather peculiar way – in a Daffy Duck voice – during Game 3 of the World Series. Of course, when the Cubs took home the trophy that year, Murray remained on hand. Eagle-eyed viewers might have even spotted him during the Cubs' celebration when then Cubs President Theo Epstein sprayed Murray with champagne. Of course, the actor felt extremely happy to see his favorite team win for the first time in over 100 years. "I think it's great. It's about time," he commented on the iconic win.
Murray returned to sing the famed baseball song last year, during a game with no live audience, due to COVID-19 rules and regulations. While that meant the actor could not appear in person, he still made the performance thoroughly entertaining. Instead of appearing live, Murray recorded a video of himself singing "Take Me Out to the Ball Game" while sitting in a chair and holding a giant stuffed bear. Marquee Sports Network, the Cubs' home network, shared the video, delighting baseball fans worldwide.
We can't wait to see what Bill Murray does next!
Sources: People Magazine, Variety.