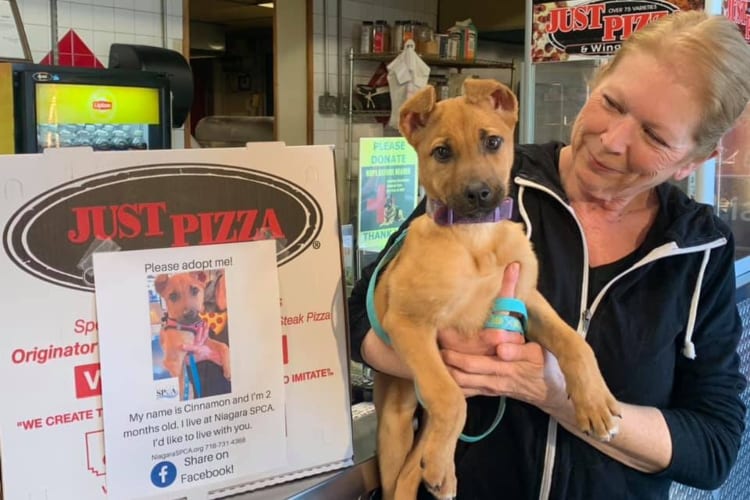 When you look at a pizza box, what do you usually think of? Probably not the wasted space on the front! However, this New York pizza shop realized they could put pictures of adorable and adoptable shelter dogs on their pizza boxes!
Adoptable Dogs on Pizza Boxes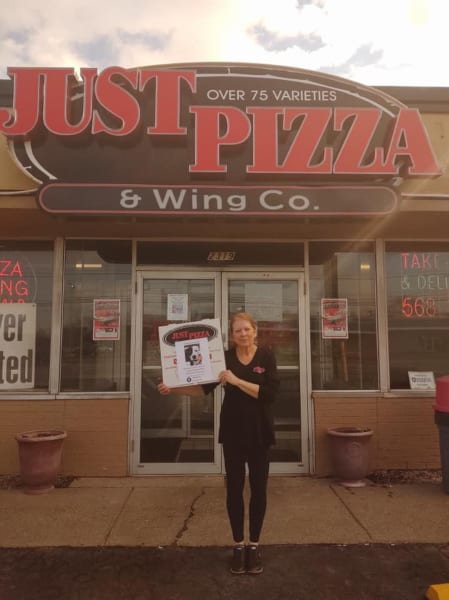 Mary Alloy, owner of a Just Pizza & Wing Co. franchise in Amherst, New York, loves animals. In fact, Alloy and her three children even volunteer at the Niagara Society for the Prevention of Cruelty to Animals (SPCA) in their free time! So, for a few years, she's wondered how to help her furry friends, even while working. Now, Alloy's finally figured it out! While looking at her pizza boxes, the mother and entrepreneur realized that they could add pictures of dogs that needed homes to pizza boxes!
After finally figuring out what to do, Alloy immediately contacted her friend and partner from SPCA, Kimberly LaRussa. Believe it or not, LaRussa had just had the same idea! "Kimberly texted me one night and was like, 'Hey, what would you think about putting pictures of the dogs on pizza boxes?' and I just couldn't wait. We are all animal lovers here, so I got permission from the franchise to do it and immediately got to work," Mallory said.
Becoming Quite Popular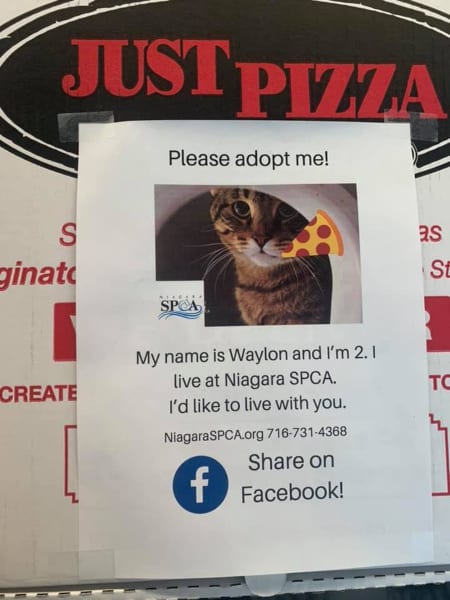 Just a week after the two discussed the plan, Alloy began delivering the specialty pizza boxes to her customers! Not only that, but anyone who adopted also received a $50 gift certificate for Just Pizza & Wing Co. As you might imagine, people loved the new boxes! "We've had a tremendous amount of interest and support from the community and beyond since the story went viral on Friday. Many people want to order a pizza just to get the shelter dog photo, other pizzerias have offered to put flyers on their pizza boxes, and so many people are tagging their friends and family," said LaRussa.
The best part of all? The initiative has been working! On the first day of using the puppy pizza boxes, a 6-month-old puppy named Larry found his forever home! Meanwhile, plenty of people who could not take in a dog decided instead to donate to the local SPCA chapter! Incredibly, this is not the first time that Alloy has helped out her local community…
Giving Rather Than Receiving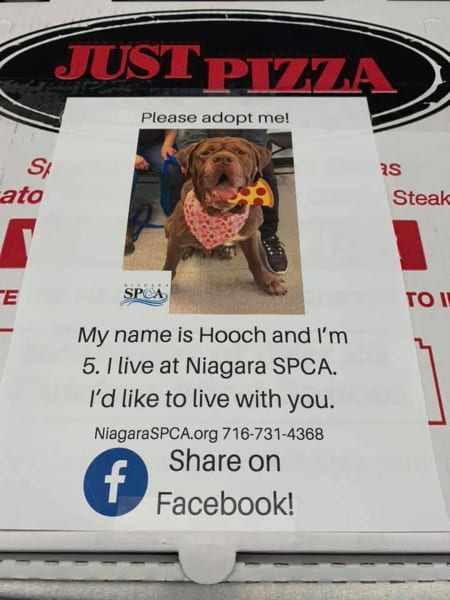 Throughout her entire life, Alloy has always tried to give back to those in need. Over the years, she's volunteered at hospice care, non-profit medical organizations, autism centers, children's hospitals, and animal shelters throughout Buffalo. "I try to do whatever I can for other organizations who need help," Alloy said. "We have donation boxes all over the store. Anything I can do to help the community, I'm going to do it."
LaRussa said that just seeing the flyers for the pizza boxes made Alloy cry. "That's just the kind of person she is. We are so grateful to Mary and Just Pizza," she stated. Pizzeria and shelter are receiving new calls every day, all thanks to pizza boxes. Now, they have also introduced adoptable cats through the boxes, and they say they won't stop until every animal gets their home! Meanwhile, Alloy and LaRussa's idea is spreading out very fast. Many pizza shops and cafes have been using and crediting two women for the exciting idea, including the world-famous Papa Louie's Italian Kitchen & Motocross Cafe in Ohio.
Sources: MSN, Niagara SPCA.