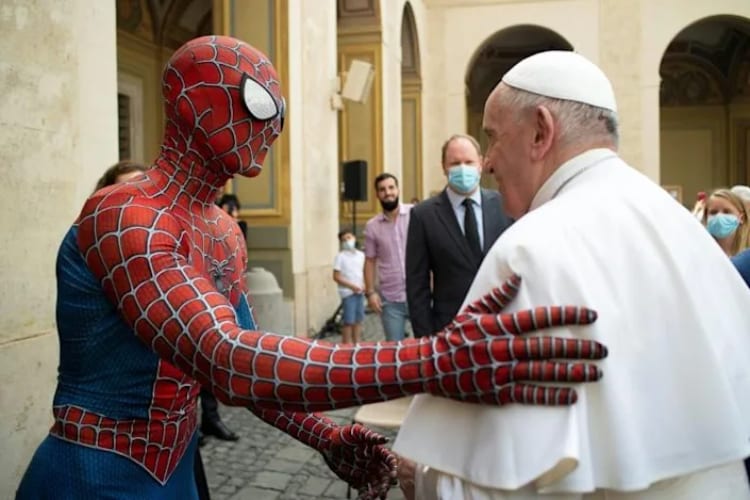 Pope Francis had an extraordinary audience outside the Vatican recently – Spider-Man arrived and shook his hand! Now, the superhero has managed to capture the internet's attention, helping many worldwide discover a worthwhile volunteer organization.
Pope Francis Invites Spider-Man Over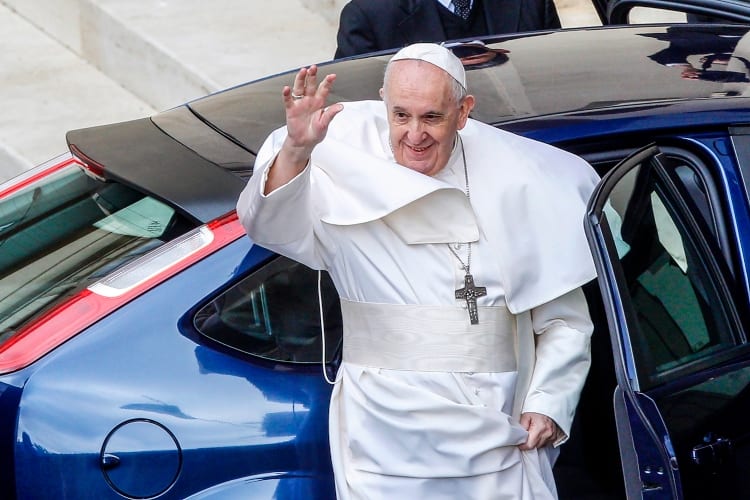 Believe it or not, Pope Francis personally invited Spider-Man to appear among priests in the official VIP section of the Vatican audience – and he certainly stood out! As usual, he wore his typical red and blue costume covered in webs and his bright-eyed Marvel mask. The hero didn't come empty-handed either, he gifted Pope Francis a Spider-Man mask! When the hero met Pope Francis, he even received a loud cheer from the audience! So, just who was behind the mask. Well, it was Mattia Villardita, a 27-year-old philanthropist from Italy who likes to dress up as superheroes. He works as the leader of "Superheroes in the Ward," a group of hospital volunteers who dress up as superheroes to cheer up sick children. It's really no surprise that the Vatican invited him over to recognize his good deeds in a very special way.
When Pope Francis met Spider-Man, they discussed all families Villardita sees on an average day. They also discussed how the outstanding volunteer did not stop his work during the pandemic. Villardita simply did socially distanced visits or video calls! "I did more than 1,400 video-calls, as I could not go in person," Villardita said.
Soon after the meeting, news outlets contacted Villardita to talk about his meeting with the Pope. However, the Italian philanthropist quickly explained that he does not see himself as a hero. "The real superheroes are the children who are suffering and their families who are fighting with so much hope," Villardita told the Vatican's media outlet, Vatican News. Believe it or not, it's far from the first time that Villardita has been recognized for his amazing gestures…
Becoming A Super Hero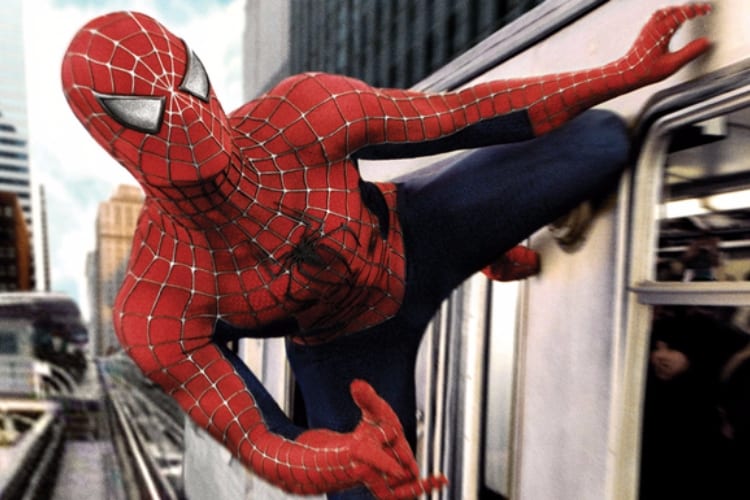 In 2019, Villardita launched the "Superheroes in the Ward" project, and it has only grown and grown since then. At first, Villardita dressed up alone. However, soon enough, other volunteers wanted to join the team, dress up, and bring a smile to sick children's faces. The very next year, Italian President Sergio Mattarella awarded Villardita Italy's Order of Merit. The Italian government said it awarded Villardita the Order of Merit for "the altruism and imaginative initiatives with which he contributes to alleviating the suffering of the youngest hospital patients."
"I know what children and their families feel in the rooms of a hospital," the young man told Italian Tele Nord after winning the award. "The idea of [dressing up as] Spider-Man was born from my unbridled passion for this character." So, while Pope Francis didn't meet Tom Holland, Nicholas Hammond, Tobey Maguire, Andrew Garfield, or any of the other actors who have played Spider-Man, he did meet a real-life hero. Hopefully, this helps Villardita continue working with children and growing his amazing philanthropic project. We wish him the best of luck!