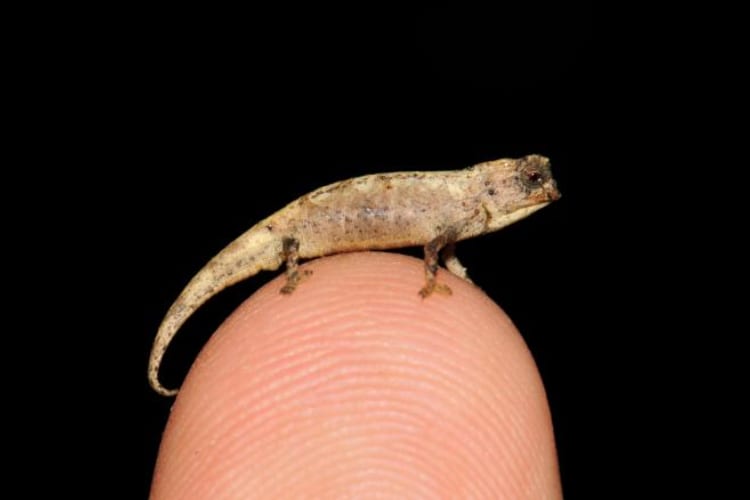 This newly discovered tiny chameleon can fit on a human's fingertip! In fact, it might win the title of smallest reptile ever found! Read on to find out more…
Nano Chameleon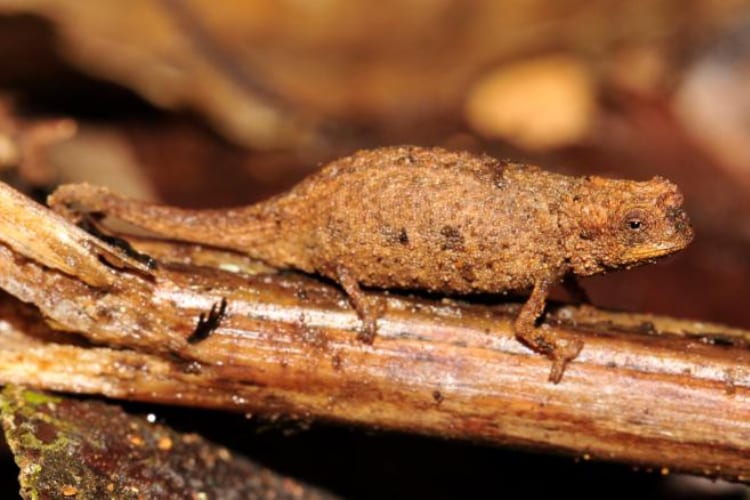 The Brookesia nana or "nano-chameleon" might just look like any ordinary brown chameleon. However, that's only if you don't know that their bodies never grow more than an inch! So, as you might suspect, these chameleons are quite different from others. For instance, they cannot change colors, and instead of living in the high trees, where they could fall and die, they live on the ground. Herpetologist Frank Glaw recently told Scientific Reports all about discovering the adorable little critter while in the rainforests of Madagascar with his team. "We expected to find some new species, but not specifically the smallest chameleon," Glaw said. But what he and the study's co-author, Oliver Hawlitschek, found shocked the world! The Brookesia nana is not only the world's smallest chameleon, but also the world's smallest reptile!
It's not just how small they are, it's how rare such small animals are when it comes to adult vertebrates. After all, as the study states, smaller species face "physiological challenges that limit further size reductions." Brookesia nana is also one of the rare examples of paedomorphism in the wild. For those who don't know, paedomorphism is the retention of juvenile physical traits and behaviors even into adulthood. Why precisely the Brookesia nana does this remains a mystery. In the future, Glaw and Hawlitschek would like to study the animal more to discover what benefits its size provides. Unfortunately, that might be a challenge, given the challenges the small species faces…
Struggling Amid Deforestation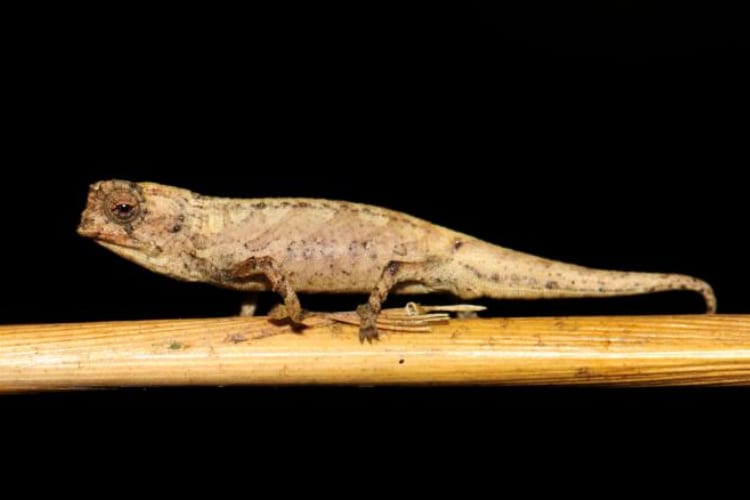 Glaw and Hawlitschek have spent quite a lot of time with the Brookesia nana at this point. And while they cannot say with certainty that the world's smallest chameleon is endangered, they certainly think it could be. Since they come from the Sorata region of Madagascar, which has suffered massive deforestation in recent years, scientists fear the worst. Especially, since, overall, chameleons from Madagascar are more prone to become endangered than other reptiles. That's because they also face the pet trade, as well as deforestation.
So, the officials of Madagascar are working hard to save the world's smallest chameleon and reptile, right? Thankfully, that's true! Recently, Madagascar representatives created a reserve in Sorata to help and protect various species from the effects of deforestation. Glaw and Hawlitschek stated that this is a step in the right direction, as Madagascar carries many rare species, including hundreds waiting to be discovered. In fact, they believe Brookesia nana might not even be the smallest chameleon. Maybe another lies waiting for us to discover it! "Many people believe that the majority of species on earth are already known to scientists — but this is not the case," Hawlitschek said.
For now, Glaw, Hawlitschek, and their team will continue to look into how the Brookesia nana has managed to survive at its size and why it's remained so small. For as long as they can, at least. We wish them luck!