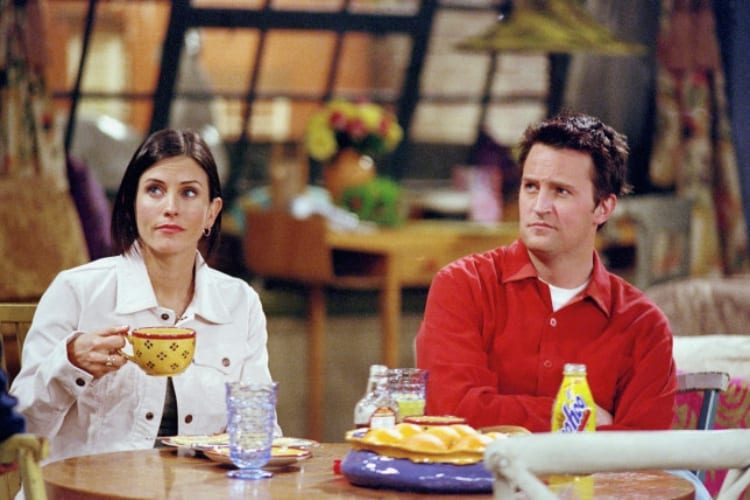 Unless you lived under a rock for the '90s, you probably know that Courtney Cox's and Matthew Perry's Friends characters, Monica and Chandler, ended up married and in love by the end of the series. However, Monica and Chandler might not make it – Cox and Perry are related. That's right!
Monica And Chandler's Little Secret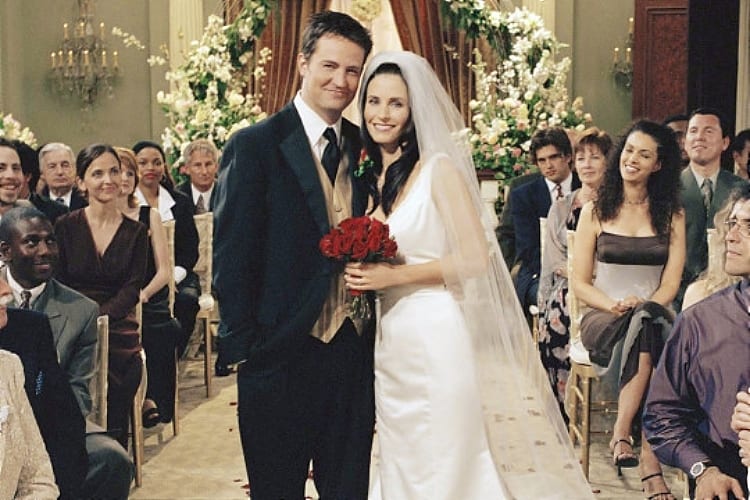 With the recent return of Jennifer Aniston, Matt LeBlanc, Lisa Kudrow, Courteney Cox, David Schwimmer, and Matthew Perry in the Friends Reunion, the hit '90s show has been on the minds of just about everyone. Through it all, fans of the show always championed the love of Monica and Chandler. From the very beginning, Cox and Perry admitted they had incredible chemistry on set and became terrific friends in real life. Now, we know there's a reason that the co-stars got along so well…
Believe it or not, Monica and Chandler are more than just friends and lovers – they are related! Incredibly, Perry and Cox actually share distant relatives, though they never knew it. To the shock of fans, a genealogist recently proved that the actors are actually cousins! After the Friends Reunion, the genealogy website MyHeritage conducted research and found out that the stars are eleventh cousins. It goes back a long way, though. Research scientists discovered that the two's family trees overlapped 500 years ago, in England!
Digging Into The Past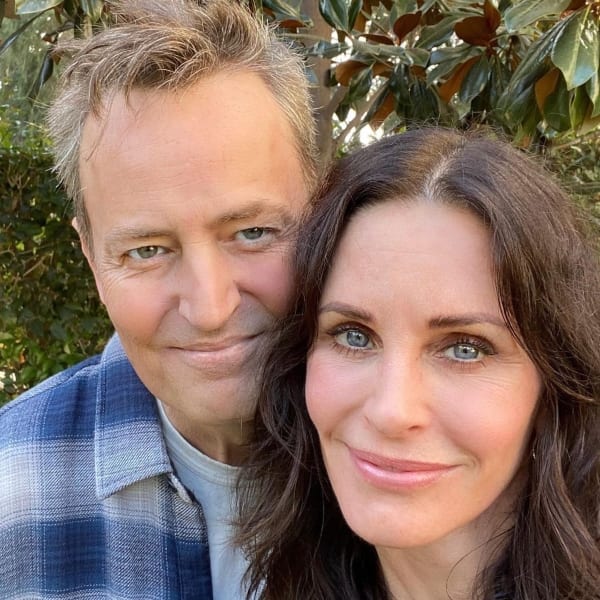 Just over 500 years ago, Cox's mother's side and Perry's father's side combined into one in their family tree, thanks to William Osbern Haskell III and Ellen Haskell, a married couple. Later on, Ellen decided to emigrate to the United States in 1635. She tugged along her two sons, Roger and William. Where do Cox and Perry come in? Well, the researchers said that William is a direct ancestor of Perry while Roger is a direct ancestor of Cox! Of course, this broke some fans' hearts – they wanted Cox and Perry to come together at some point. However, that looks unlikely to happen.
Meanwhile, digging into the past so much can reveal a lot of exciting details. MyHeritage scientists claimed that both stars are related to Lady Gaga (who, in fact, was featured in the Friends Reunion). "We went into this line very deeply, we checked every name," said Roi Mandel, the head of research at MyHeritage. "We found a lot of records that support it, and we have confidence that they are related. This is not such a surprise. It makes sense that when you go so many generations back, the chances of people being connected are higher."
Thankfully, Chandler and Monica will stay together forever in the Friends show that we can watch again and again. And most importantly, the lobster couple will be married in fans' hearts since capturing them in the first episode.